Outpatients Press
These are just a few of the press releases from back in the day...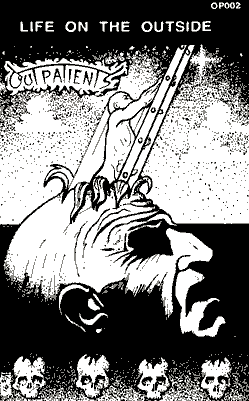 Outpatients-Life on the Outside:
I'm not sure what you would call this music other than excellent. It is heavy and solid. The band provides a good groove and is also funky at times. There are certainly punk influences. I like the singer a lot.
Crook'ed Magazine January '93
_______________________
Outpatients:
After previously putting out some two song demos, these NY based dudes went through serious progression here. The band finally developed into one specific style, after some musical detours on their prior tapes. So, you might say the current "Life on the Outside" 3-songer is their first full blown demo, at least it's got one song more. No kiddin', this really is one contemporary combination of genres in which there's strong Crossover, Thrash & ''plain" HardRock to be discovered. But what's most surprising; in a melodic wrapper, and that's what makes this tape different, original. The songs are fullmouthed, raw and direct in approach, but sound really fresh at the same time. Hard to explain, but just wait 'til you hear the sparkling, melodical vocals over these Crossover riffs, and the groove based HardRock solos in between the Thrashier parts. A very cool demo, that'll make you play it over and over again. Recommended.
_______________________
Outpatients-Life on the Outside:
They say you can't judge a book by it's cover but I figured if the music was as interesting as their unique packaging I'd give it a spin. I was not disappointed in the least. From the opening crunch of "Escape Prisoner" to the last note of "Pro Guess" I was in headbanger heaven. Not to mention the real meat of this melodic metal sandwich, the title cut. A song that would fit well in the repertoire of bands like Primus or Infectious Grooves. A real nasty piece of frantic funk. I love it.
Fresh out of the asylum comes Vis Helland on lead vocal, guitar and artwork, brother Scott Helland bass and backup, Scot (Norman) Bates on drums and the fourth patient Don Fury their producer/engineer. Head lunatic Vis is responsible for their breakout writing all the material as well as fronting the band.
John Jay, Good Times - November '92 Long Island, NY
_______________________
Outpatients-Life on the Outside:
As I said last issue these guys would be back for a third time in a row in these pages. This demo is far better than the last two I reviewed and Outpatients continue to write better and more original songs, even Vis' voice has gotten better. They still maintain that "alternative metal" feel with a heavy (thrash) edge and a slightly funk feel. The band also continues to put in those melodic, almost sing-along parts. Best tape so far and the packaging is better on this one, as well.
M.B.
N.G.F #6 Fall '92 California
_______________________
Outpatients-Life on the Outside:
What I really like about this group is that they don't really sound like anybody else. It's like a hard rock cake with bits of punk, funk, and metal thrown into the batter. Of the three songs here, I dig "Pro Guess" the most. And the price is right.
DBN Fanzine - Summer "92 Florida
_______________________
A really good demo came for me this week. Its color struck me as odd; kind of a puke green color. What really caught my attention was the music contained in its bizarre packaging.
Brothers Vis and Scott Helland formed the band in 1982, and have been touring and releasing new material ever since. In fact, their music appeared on the Bands That Could Be God compilation in 1984. They followed up by releasing their own album in 1988, which recieved worldwide airplay. Vis and Scott added Marc Lockhart on guitar and Scott Bates on drums to round out their sound, and the rest is history.
Their tape, Life On The Outside, contains three tunes which lean towards the progressive metal side of the fence. They remind me of a more interesting Megadeth. The production is good, and the songs demonstrate a degre of intelligence in both writing and performance.
Anyway, the tape is solid, the band looks like a band, and they have the experience that shows in their music.
by Jeff Brogowsky, East Coast Rocker summer '92
_______________________
Outpaients - Committed Two:
Let me start off by saying that this is one of the most unique sounding tapes that I have ever heard. The closest I can come to describing the Outpatients sound is to call it "alternative hardcore".
Committed Two, recorded last September, is a two song demo with decent production and definitely unusal material. The two songs "Out To Be" and "Million Miles Away" sound like nothing I have ever heard before. Bothof the songs are quite good and I highly recommend Committed Two to open minded and eared readers.
Obituary Column May/June '91 Minnasota
_______________________
Outpatients:
In keeping with their fast and loud image, their influences are furious rockers like Motorhead, Bad Brains and Discharge. Outpatients' own music is a speedy barrage of tight hard rock, pumped up by Vis's blazing guitar work. Outpatients have two songs, "Light Blue" and "Fight," soon to be released on the Conflict fanzine compilation album, Bands That Could Be God. They have an additional 25 songs ready to record, so expect more Outpatients vinyl sometime this summer.
-Michel Bastarache
Boston Rock, March 1984
_______________________

Proletariat, Sorry, Outpatients (Chet's Last Call):
I understood this was to be the proletariat's first gig in quite a while. Add to this their winning the "Best Band" title in Boston Rock and the turnout was rather respectable. The Outpatients...Oh my head!!!...Uh. They defied description. This band was tight and fast beyond belief and much more than lived up to all the wonderful things I've read about them. The grimacing, out for blood expressions on their faces struck genuine terror in my heart. The bassist's hopping around like Gollum (Lord of the Rings) and the drummers tongue displaying were particularly effective. The Outpatients renewed my faith in hardcore and by far, blow away any Boston band I've seen thus far. Sorry were also great but not as destructive as their previous Chet's gigs.

1983